The holidays are a time for family, friends, and most importantly, good cheer! If you're hosting a holiday party this year, you'll want to make sure you have a few signature drinks up your sleeve to impress your guests.
Top 5 Drink Recipes To Impress Your Guests
Whether you're looking for something festive and fruity or rich and chocolatey, we've got you covered with these delicious drink recipes. So break out the shaker and get mixing!
1. Lux Farm Rome-mosa (Pomegranate Green Tea Mimosa)
With alternative holiday celebration times on the rise, consider starting your holiday brunch off right with this refreshing take on the classic mimosa. This is a simple cocktail that's easy and cost-effective to make in large amounts for any size of your gatherings.
Ingredients & Direction
Simply combine equal parts of the Lux Farm Roma green tea and champagne (or prosecco) in a flute glass. Garnish with a sprig of rosemary or fresh cranberries for an extra touch of holiday cheer. If you want to get a little fancier, you can even rim the glasses with sugar before adding the ingredients.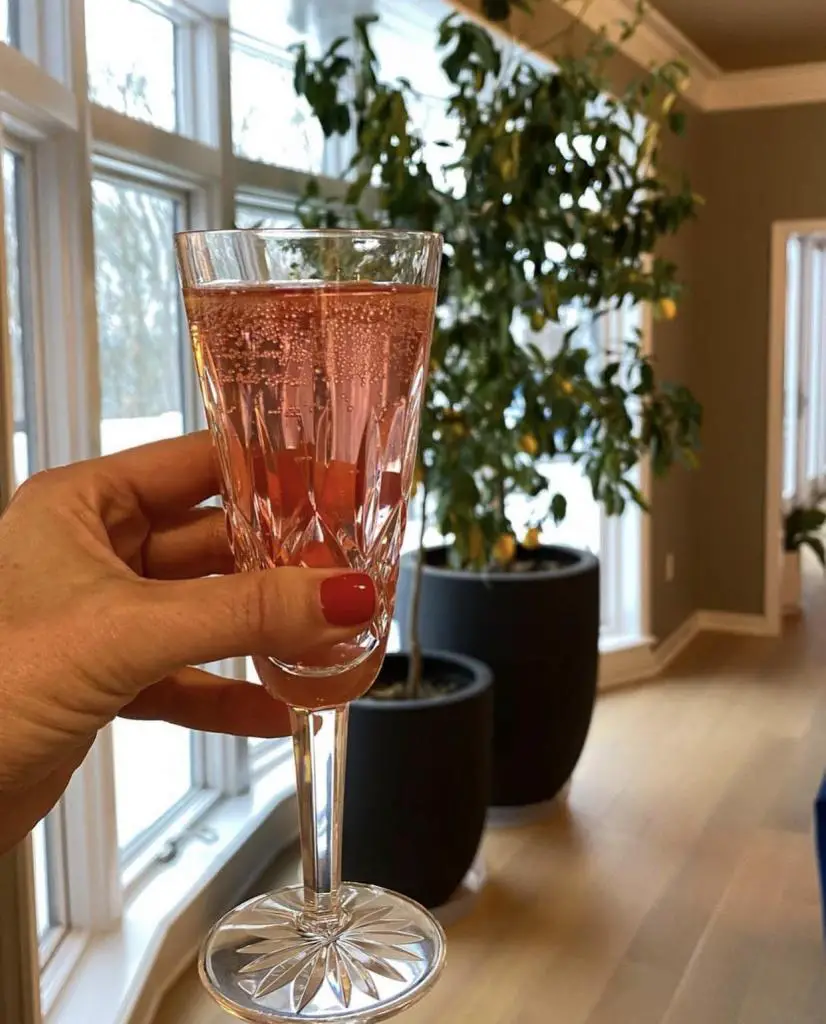 2. Eggnog Martini
No holiday season would be complete without a classic eggnog, but why not elevate this traditional drink by turning it into a sophisticated martini? This festive cocktail is sure to please any crowd, and it's actually quite easy to make.
Ingredients & Direction
Combine 2 ounces of your favorite brand of eggnog, 1 ounce of vodka, and ½ ounce of amaretto liqueur in a shaker filled with ice. Shake well and strain into a chilled martini glass. Garnish with freshly grated nutmeg and enjoy!
There are lots of variations you can play around with, from a more traditional eggnog with spiced rum to more exotic versions with Calvados or cognac. With a great eggnog recipe, garnishes can also be experimented with and swapped out for you and your guests' flavor preferences. Sprigs of mint are a fantastic garnish option, as are whole cinnamon sticks and peels of orange for a more aromatic take. Also remember to use a good quality eggnog, as it will really make a big difference in the final flavor of your cocktail.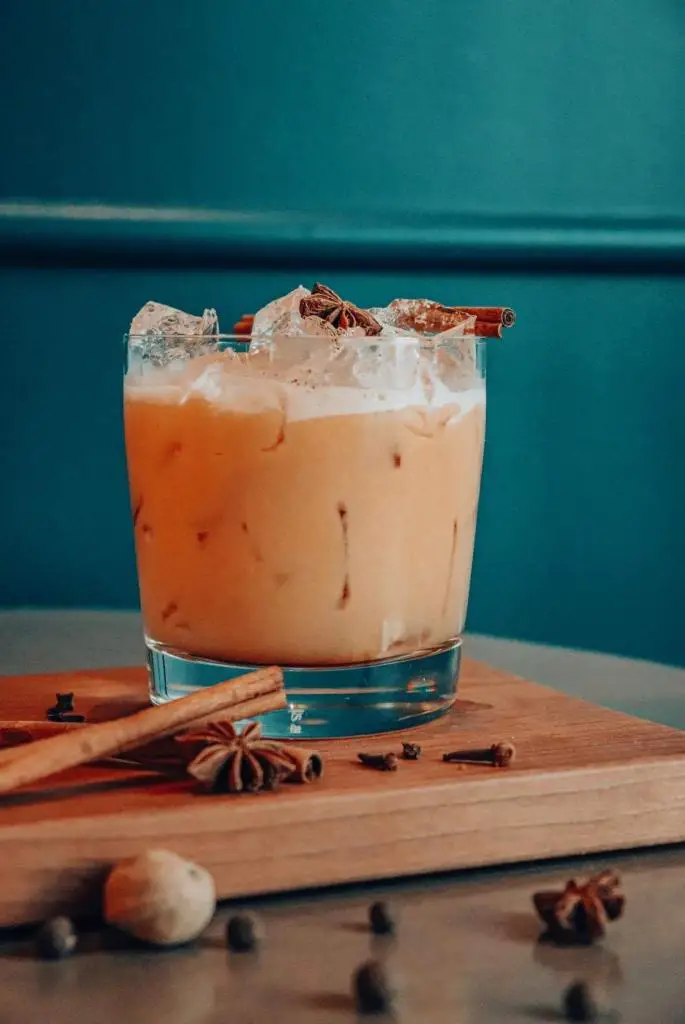 3. Spiked Hot Chocolate
What could be more festive than a piping hot cup of cocoa? How about by sipping on a piping hot cup of cocoa spiked with aged or dark rum, of course! This rich and indulgent drink is the
perfect way to warm up on a cold winter's night, and your guests are sure to love it.
Ingredients & Direction
To make this delicious drink, combine 1 cup of milk, 1 1/2 ounces of dark chocolate, a teaspoon of cinnamon, 2 teaspoons of unsweetened cocoa powder, 1 tablespoon of rum, and 2 ounces of aged or dark (even spiced is lovely!) rum in a medium saucepan on low heat. Whisk the chocolate and cocoa powder in the milk slowly, continuing to stir until the mixture is heated and thoroughly mixed together. Remove from the heat and serve! Marshmallows are a great garnish to utilize and create a cozy, winter atmosphere.
This classic winter drink is perfect for warming up friends and family on a cold night. And there are so many variations you can try, from classic cocoa with marshmallows to pumpkin spice cocoa or even peppermint hot chocolate with a splash of peppermint liqueur to make yourself a peppermint hot chocolate and garnish with crushed up candy canes.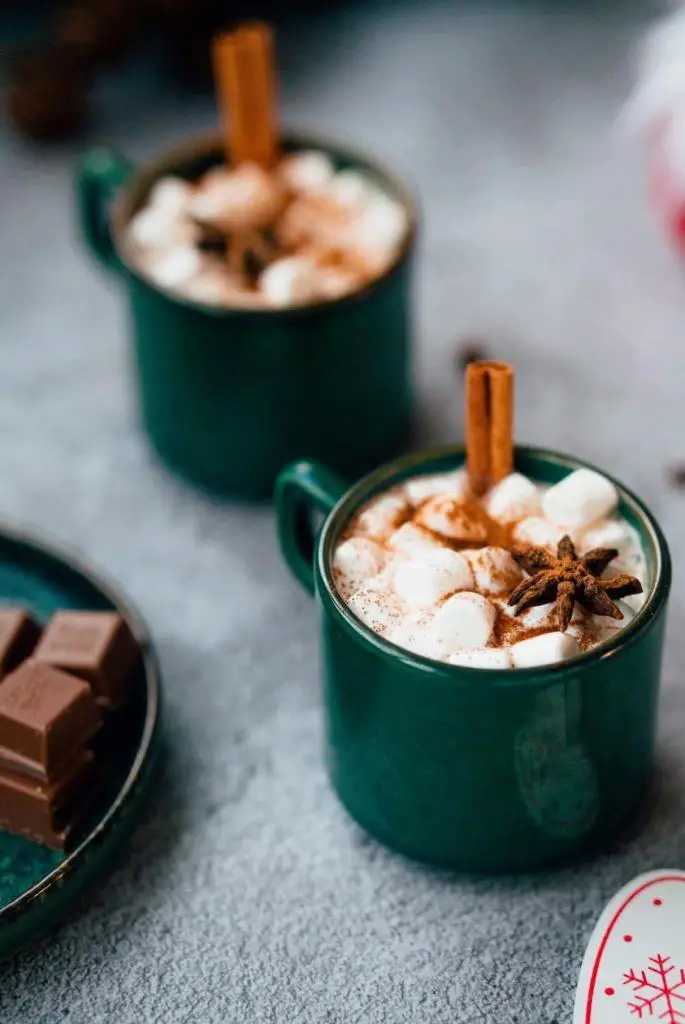 4. Spiced Apple Cider
This warm drink is perfect for sipping by the fire on a cold winter's night and it's easy to make for all of your guests to enjoy! It's a very versatile style of cocktail as well, serving fantastically during Thanksgiving and Christmas holiday festivities.
Ingredients & Direction
Simply combine 4 cups of apple cider, 1 cup of orange juice, ¼ cup of honey, 3 cinnamon sticks, 2 teaspoons of whole cloves, and 2 teaspoons of allspice berries in a pot over medium heat. Cook until heated through then remove from heat and let steep and cool down for 15 minutes before serving.
5. Christmas Punch
This big-batch beverage is perfect for large holiday gatherings. We're going to give you the proportions before adding your alcohol to the punch to give you a great non-alcoholic option. To make it a boozy punch, simply add the alcohol we will recommend for you at the end, after every other ingredient is mixed in and ready for serving.
Ingredients & Direction
Simply combine 2 quarts of cranberry juice, 2 quarts of apple cider, 1 quart of pineapple juice, 2 cups of lemon juice, 2 cups of orange juice, 1½ cups of sugar, 3 cinnamon sticks, 6 whole cloves, and 6 allspice berries in a large pot over medium heat. Cook until heated through then remove from heat and let steep for and cool for 30 minutes before serving.
You can garnish this drink with fresh cranberries, slices of orange, or even a sprig of rosemary for extra flavor and pizzazz. This drink is also non-alcoholic, so it's perfect for serving to a wide
range of people. If you're looking to give it a little boozy boost, we recommend adding 1 quart of rum, bourbon, or brandy. You can also top with your favorite brand of ginger beer for a bit of a spicy kick, or top with a tasty bottle of Champagne or Prosecco.
Final Recipe Tips
When it comes to hosting, there are a few key things to keep in mind that will help make your holiday gathering a success. First, be sure to have plenty of food and drink options available for your guests. It's always better to err on the side of too much rather than too little. Second, make sure your space is clean and welcoming – no one wants to come to a party where they feel like they're in the way. Finally, take some time to relax and enjoy yourself! The holidays are a time to celebrate with loved ones, so take the time to do exactly that.
These five festive drinks are sure to please your holiday guests! Whether you're looking for something mimosa-inspired for a holiday brunch or spiked takes on your favorite heated beverages, we've got you covered. So break out the shaker (or pot) and get mixing! We hope you enjoy these holiday drink recipes and that they help make your holiday season a little brighter. Cheers!