If you have a sweet tooth and love entertaining, you'll want to make a chocolate dessert charcuterie board. A chocolate dessert charcuterie board is an impressive and delicious way to serve sweets that will leave your guests raving.
How To Build A Chocolate Dessert Board
In this article, we'll guide you through creating a chocolate dessert charcuterie board, from selecting the right ingredients to arranging them beautifully on the board. Prepare to savor some delicious and sweet goodies.
Step 1: Select Your Board
The first step in creating a chocolate dessert charcuterie board is to select the right board. A hardwood board or slate plate works well for a casual, natural appearance, while a marble board has a more upscale, refined appearance. You can also use a large serving tray or a baking sheet for a designated board.
Step 2: Choose Your Chocolate Treats
Now it's time to choose your chocolate treats. The key to a successful chocolate dessert charcuterie board is to offer a variety of sweets with different flavors and textures. Here are a few ideas to help you get started:
Chocolate bars: Dark chocolate, milk chocolate, and white chocolate can all be incorporated in various forms, from chocolate chips to chocolate shavings.
Brownies: Cut your favorite brownie recipe into small squares and add them to the board.
Truffles: Homemade or store-bought truffles are an elegant addition to the board.
Cookies: Chocolate chip, double chocolate, or Oreo cookies can be included for some variety.
Fruits: Strawberries, bananas, and raspberries are all delicious when dipped in melted chocolate.
Mix and match these options to create a unique chocolate dessert charcuterie board that suits your taste.
Step 3: Add Your Extras
Once you've selected your chocolate treats, it's time to add some extra elements to the board. These extras will provide some variety and balance to the board. Here are some ideas:
Cheese: Soft and creamy cheese like brie, goat, or cream cheese can be paired with chocolate and fruits.
Nuts: Walnuts, almonds, pecans, and hazelnuts are perfect for adding crunch and texture to the board.
Jam or Honey: These can add sweetness and balance the chocolate. Try pairing them with nuts and crackers.
Crackers or Bread: Offer a variety of bread or crackers to help balance the board. Choose simple, neutral flavors like baguette slices, wheat crackers, or rye bread.
Remember that you don't have to include every element, and it's always better to keep it simple and focus on quality rather than quantity.
Step 4: Arrange Your Board
Now comes the fun part: arranging your board. The key to a successful chocolate dessert charcuterie board is to make it visually appealing, with a mix of colors, shapes, and textures. Start by placing your more oversized items like brownies or chocolate bars first.
Add bowls or ramekins for items that may be messy or sticky, like honey or spreads.
Use smaller items like nuts or candies to fill in any gaps or spaces on the board.
Mix and match colors, textures, and shapes to create interest and contrast.
Add a finishing touch to your board with fresh herbs or edible flowers, providing a pop of color and an elegant touch.
Step 5: Enjoy!
Once your chocolate dessert charcuterie board is arranged, all that's left to do is enjoy it with your family and friends! Chocolate dessert charcuterie boards are perfect for any occasion, from a casual evening at home to a fancy dinner party. They're easy to assemble, visually stunning, and offer various flavors and textures. So why not give it a try? You may discover a new favorite way to enjoy chocolate.
FAQ
Below are some FAQs about chocolate dessert charcuterie boards:
What other desserts can I add to my chocolate dessert charcuterie board?
In addition to chocolate treats, you can add a variety of other desserts like fresh or dried fruits, nuts, cookies, and candy. The key is to offer a mix of flavors and textures to keep the board interesting and balanced.
Can I include other types of chocolate on my board, like white or milk chocolate?
Absolutely! A chocolate dessert charcuterie board can include various chocolate types, from dark chocolate to white chocolate. The secret is to provide a range of tastes and textures.
How do I keep my chocolate from melting on the board?
One way to keep your chocolate from melting is to chill it before placing it on the board. You can also place the board in an excellent location, such as in the fridge or on a marble countertop. If you're serving the board outside on a warm day, consider placing it in a shady area or bringing it inside after a short period.
Impress Your Sweet Guests
A chocolate dessert charcuterie board is an impressive way to serve sweets for any occasion. Following these simple steps, you can quickly assemble a stunning and delicious board to impress your guests. Always keep diversity and balance in mind, and don't be afraid to experiment with flavor combinations.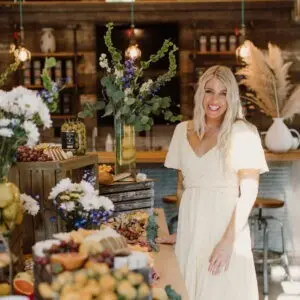 Food stylist & founder of One Board Gal. Known for creative food tips and simple cheese board inspiration. I am dedicated to helping you bring a lot to the table by sharing tricks, tips, and education for your next gathering.