A charcuterie board is more than just a platter of meat and cheese. It's an art form. The perfect charcuterie board is a beautiful balance of flavor, texture, and color. It's a symphony of cured meats, pungent cheeses, sweet jams, and pickled vegetables. And like any great symphony, assembling the perfect charcuterie board takes a little bit of time, effort, and a whole lot of love.
A great wait to look at building Charcuterie boards is to remember and focus on how they are all about balance. You want a mix of salty and sweet, crunchy and creamy, acidic and savory. And of course, you want it to look as good as it tastes! This guide will teach you everything you need to know about picking the perfect meats, cheeses, and accompaniments to create a work of art that is sure to impress your guests.
So even if you're new to the world of charcuterie, don't be intimidated. Just follow these simple tips and you'll be a charcuterie master in no time, ready to wow your friends and family with an unforgettable spread. Now let's get to work on upping your hosting game, and having a blast while doing so!
Maximizing & Understanding Flavor
When it comes to charcuterie, flavor is key. That's why it's important to select a variety of meats that offer different flavors and textures. A good rule of thumb is to include at least one cured meat, one spicy meat, and one smoked meat. For example, you might include prosciutto (cured), calabrese (spicy), and smoked salmon (smoked). Or bresaola (cured), chorizo (spicy), and bacon (smoked). The possibilities are endless! By utilizing different flavors on your meats, you create an explosion of flavor in every bite. And that's exactly what you want from a charcuterie board!
In terms of cheese, again you'll want to try to include a variety of flavors and textures. A good mix might be a sharp cheddar (flavorful & bold), a creamy brie (smooth), and a nutty Gouda (rich). As for jams and pickled vegetables, these can add sweet or savory notes to your board. Pickled items are a great way to introduce acidity to your board while sweeter items compliment your spicy ingredients, and that can go a long way to balance out the different selections you've made on your meats and cheeses. For example, if you're using a strong blue cheese, you might want to pair it with a sweet fig jam. Or if you're using a spicy chorizo, you might want to pair it with pickled jalapenos or pickled red onions.
As for flavors, it's nice to have a mix of mild and bold. Cured meats tend to be on the stronger side, so they're balanced out by the more delicate flavor of cooked chicken or pork, or even lighter meats like turkey. And don't forget about texture! You want a mix of chewy, fattier meats with crispy, dry-cured meats to create a well-founded spread with plenty of options for you and your guests.
Cheese is one of the most important components of a charcuterie board. After all, what's charcuterie without cheese? When selecting cheeses, aim for a variety of textures and flavors. A good place to start is with a soft cheese like brie or goat cheese, a semi-soft cheese like cheddar or gouda, and a hard cheese like Parmesan or Pecorino. As for flavors, you want a mix of mild and bold (remember our balance!). The soft cheeses tend to be on the milder side while the Semi-softs are usually more flavorful. The hard cheeses will have the strongest flavor so choose those wisely! You don't want your guests getting palate fatigue half-way through the board, so using the bolder and sharper cheeses in moderation is an important thing to remember as you select your ingredients.
Remember as you're shopping for your ingredients: quality meats and cheeses are key, everything else is just icing on the cake!
Include Some Accompaniments
The final piece of the puzzle is the accompaniments. This is where you can get really creative with your charcuterie board. Pickled vegetables, jams, mustards, olives, honey – the options are endless! Think about what flavors will complement your meats and cheeses and go from there. This is another reason to start with your meats and cheeses for your base and build out the accoutrements around your foundation. And don't forget about texture! Include some crunchy items like crackers or breadsticks as well as some softer items like baguettes or pretzels.
As for fruits and vegetables, the sky's the limit. Pickles, olives, grapes, berries, Cherry tomatoes… you name it, it can go on a charcuterie board. Just remember to cut everything into bite-sized pieces so your guests can easily grab what they want without making a mess. As much as we all love photographing a beautiful charcuterie board, we also want to make it easy and enjoyable to eat from to further impress your guests and keep the convenience level high.
Assembling Your Board & The Art of Presentation
Now that you know what to put on your charcuterie board, let's talk about how to put it all together. First things first: make sure you have a large enough cutting board or platter to accommodate all of your goodies. If you're using a wooden cutting board, be sure to give it a light coating of olive oil before you start arranging everything. This will help protect the wood and prevent cracking.
Once you have your base ready, it's time to start building! Be sure to leave some empty space in between each item so that your guests can easily grab what they want. Start with the meats and cheeses, arranging them in neat little piles around the edges of the board. Then fill in the empty spaces with fruits, vegetables, nuts, crackers, etc. This is your chance to get creative and have fun with it! The possibilities and different combinations are endless.
Bread and crackers are a very important layer to your charcuterie. When assembling your boards, remember to include your dietary-restricted guests! With allergies like gluten, dairy, and nuts on the ever-constant rise you want to be sure to give options and inquire about restrictions ahead of time. It's an easy adjustment on your end when you know about it, all you have to do is separate the allergens to a separate board or dishware that ensures they don't come in contact with the other ingredients. This a small but noticeable attention to detail that people will remember and appreciate.
And that's it – you've now created a work of art!
Conclusion
Whether you're hosting a casual get together or an upscale soiree, charcuterie boards are always a hit. A well-crafted charcuterie board is truly a work of art, and building the perfect board takes time, effort, and careful planning – but the end result is always worth it! By following these tips on how to maximize flavor and assembling your board strategically, you'll be able to create an unforgettable experience for your guests that they won't soon forget.
There you have it, you're now ready to go forth and impress! Get to building those beautiful boards and culinary creations – we promise your guests will thank you for it!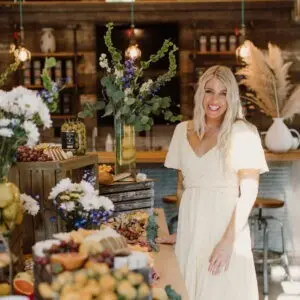 Food stylist & founder of One Board Gal. Known for creative food tips and simple cheese board inspiration. I am dedicated to helping you bring a lot to the table by sharing tricks, tips, and education for your next gathering.