If you missed my TV segment on Hello Iowa, here are the five easy steps to build a great gameday board featuring hummus.
How to Make a Gameday Board in 5 Easy Steps
If you're anything like me, you love finding new and interesting ways to serve up veggies to your family and friends. I especially love this hummus veggie charcuterie board because it comes together quickly and can be easily customized to whatever fresh produce you have on hand. Plus, it's a quick and easy appetizer board for any game day.
Step One: Shape Your Hummus
First things first, you will need to shape your hummus on the board. For this board, I have shaped the hummus into a football to fit the tailgate theme. The best way to spread hummus is the "swoosh not smush" method. Ensure you use a spoon vs. using a knife to slowly spread the hummus out. I also added "laces" using string cheese I cut into strips.
Step Two: Choose Your Veggies
Gather your veggies. I typically go for a mix of both raw and cooked vegetables. For this particular board, I used celery, carrots, cherry tomatoes, cucumber, and cauliflower. Sometimes I grab a pre-cut veggie tray at the store. This is a great time saver!
Step Three: Add Your Veggies to the Board
This is the fun part! Start by adding your larger veggies around the edges. I like to keep things simple by grouping similar items together (e.g. all of the carrots together), but you can get as creative as you want here.
Step Four: Add a Variety of Crackers
No charcuterie board is complete without a variety of crackers. For this particular board, I used whole wheat crackers, pita crackers and nut-based crackers. You can really use any crackers you have on hand.
Step Five: Add Some Finishing Touches
To finish things off, I might add additional toppings like feta cheese, olives, and freshly chopped herbs for extra flavor. Once everything is added, dig in and enjoy!
Final Play
There you have it—everything you need to know about how to make a delicious and beautiful hummus veggie board! This healthy appetizer is perfect for your next gameday gathering. And best of all, it comes together in just five easy steps. So next time you're looking for a fun way to serve up veggies (or Hummus!), give this recipe a try—I guarantee you won't be disappointed!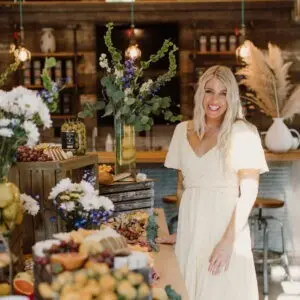 Food stylist & founder of One Board Gal. Known for creative food tips and simple cheese board inspiration. I am dedicated to helping you bring a lot to the table by sharing tricks, tips, and education for your next gathering.