Anyone who knows me knows I absolutely love Hy-Vee. I mean… who doesn't? But seriously… this love affair is STRONG! Some may even argue that my love of Hy-vee ultimately led me to move to Des Moines permanently in 2018. To this day I even get teased for knowing many of the employees in the store. After all, they were some of the first "friends" I made in Iowa when I didn't know many people here while I was working during the Solheim Cup.
Needless to say, I was honored when asked to record a "What's New At Hy-Vee" segment for their private label products. WOW! Was I blown away!? The red and black box I received came with some great goodies I could not wait to share. Inside I found Crav'n fudge-covered marshmallow cookies, Simply 35 Peach Moscato, Full Circle Cinnamon Honey Butter, and a beautiful loaf of Beacon's Field Cinnamon Raisin Bread.
While I enjoyed the Full Circle Cinnamon Honey Butter for its sugary texture and the way it spread on a cracker, I cannot stop raving about the Beacon's Field Cinnamon Raisin Bread. Immediately after opening the packaging, I felt like I was in a bakery. The bread was fresh and would be great with some warm butter. Each slice was jam-packed with raisins and would even be wonderfully turned into french toast. Growing up, we always did "French Toast Fridays" and I know this bread would be the star of the show.
The marshmallow Crav'n cookies took me right back to summer days sitting by a campfire as a child. I mean… who does not love a chocolate cookie filled with gooey, fluffy marshmallow? I would recommend these to anyone who has children or wants to indulge a little. And speaking of indulging….Simply 35 is a great way to feel like you are indulging, yet I was pretty surprised to find out that each glass has only 35 calories per serving. I feel like that is a bottle of Moscato I can get behind! If you enjoy peach and sweet, this Moscato should 100% be in your cart the next time you are at Hy-Vee.
Overall, I enjoyed the products I reviewed and would confidently reach for the Simply 35 Moscato and Beacon's Field Cinnamon Raisin Bread again. Five out of Five. I am grateful to have been chosen to review these wonderful private label products. Hy-Vee will always have a special place in my heart (and stomach). From their amazing and friendly customer service to fresh produce and great products, Hy-Vee has it all.
Check out the video by visiting https://fb.watch/5d6EQ5gvV9/ or my Instagram @oneboardgal IGTV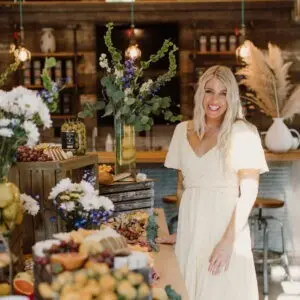 Food stylist & founder of One Board Gal. Known for creative food tips and simple cheese board inspiration. I am dedicated to helping you bring a lot to the table by sharing tricks, tips, and education for your next gathering.