As soon as I walked into Valley Junction's newest store, The Candle Bar in West Des Moines, I knew I had arrived at an amazing place. As I began to smell all the different scents, so many memories came flooding back to me. Candles bring so much beauty into my home with their gentle glow and light. No matter how many cheese and charcuterie boards go out my door into the 515 and Des Moines community, lighting a candle or two always keeps my kitchen smelling beautiful.

Creating a custom candle is easy. Starting with selecting your vessel, I was able to pick a beautiful rose gold container for my creation. Then I headed over to all the scents lined up on the wall. With over 55+ scents to choose from, I was in heaven. From tropical coconut smells to fresh linen, the combinations are endless. After I narrowed down my selections to 2-3 scents, I pulled up a seat at the bar to work with the scent expert, Chloe, to select my final blend. Once my selections were final and I mixed them together, Chloe took my candle to add hot soy wax for the finishing touch. After 70 mins, my beautiful smelling candle was complete. I loved my experience down in Valley Junction at this new hidden gem in our own West Des Moines backyard. I will be back to make more wonderful candles very soon!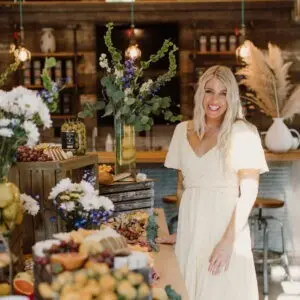 Food stylist & founder of One Board Gal. Known for creative food tips and simple cheese board inspiration. I am dedicated to helping you bring a lot to the table by sharing tricks, tips, and education for your next gathering.