Hi all! What an incredible month. From sitting on the West Des Moines Chamber of Commerce Elevate Panel, to The Lux Farm pop-up at the beautiful Surety Hotel in Downtown Des Moines, to Hello Iowa on WHO 13, I am so incredibly grateful for events being back and for everyone in this amazing community for attending/supporting small business owners

I wanted to provide an update on the business side of OBG. I started this account as a passion project in August 2020 as a way to stay busy, share my love for cheese boards and maybe sell a few to other people while the pandemic kept us from large gatherings and events. Thanks to you all, the business took off far more than I ever could have imagined! OBG has provided so many incredible opportunities, new considerations, and new friendships. As the holidays approach, I have taken the time to really consider the next steps for myself and One Board Gal.

After much consideration, I have decided to take a break selling cheese boards and place a larger focus on teaching workshops and providing educational/inspirational content for you all (here on social and at oneboardgal.com) I am looking forward to sharing more cheese tips, product updates, cheese board challenges, and many ways to help you cheesetain™️ this holiday season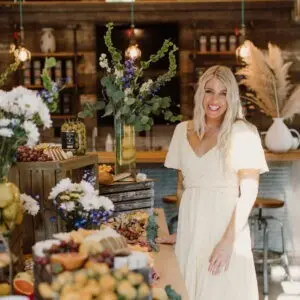 Food stylist & founder of One Board Gal. Known for creative food tips and simple cheese board inspiration. I am dedicated to helping you bring a lot to the table by sharing tricks, tips, and education for your next gathering.