On December 8, I had the pleasure of visiting WHO 13 in downtown Des Moines. By 8:10 a.m. I was signed in and on the set of the Hello Iowa segment "What's Cooking?" Megan Reuther greeted me as I set up in the kitchen. She was so warm and generous as I set up all my cheese and charcuterie pairings. We talked about the upcoming Christmas holiday and my move from Southern California to West Des Moines. We laughed about the Midwest adjustment, but it was refreshing to share how much I truly do love Iowa.

Within 20 minutes, I was set up and ready for the interview. While we had to be six feet apart and she was unable to try the cheese, we discussed how I got started with One Board Gal during this pandemic and some great cheese pairings for the holidays. From brie cheese to manchego, we covered all the necessary items to pair together for the perfect bite and combination. I really enjoyed my time in the WHO 13 studio and would love another opportunity to return to the Hello Iowa kitchen.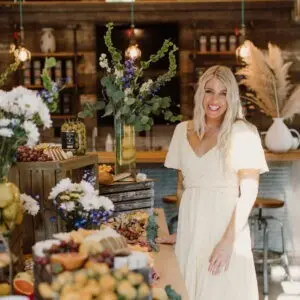 Food stylist & founder of One Board Gal. Known for creative food tips and simple cheese board inspiration. I am dedicated to helping you bring a lot to the table by sharing tricks, tips, and education for your next gathering.