Just a quick 20 minute drive from Downtown Des Moines (or less depending on location and driving speed) Feed & Foster in Indianola is a gem on the main town square. Owner Erin has created an absolute must-stop for all your celebration and houseware needs! From tasty and unique cheeses to artisan jams to classic dishware every hostess with the mostest needs, Feed & Foster has it all.
Erin is a wonderful resource for all things celebration! Some of my favorite most unique cheese board finds have been from F&F. Make sure to pick up some of my personal favorites this holiday season – Vermont Goat Cheese and American Spoon Cherry Jelly – You won't be disappointed you made the trip to this small, but mighty shop!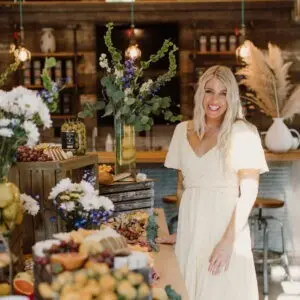 Food stylist & founder of One Board Gal. Known for creative food tips and simple cheese board inspiration. I am dedicated to helping you bring a lot to the table by sharing tricks, tips, and education for your next gathering.