What's colorful, healthy, and perfect for any summer BBQ or picnic? The Veggie Charcuterie Board! Packed with a variety of fresh vegetables and the richness of AE Dairy's Cottage Cheese, this board is a delightful and nutritious way to start any meal. Ideal for holidays, family gatherings, or just because, this board adds a fresh and colorful twist to traditional appetizers.
Table of Contents
Ingredients You'll Need
Creating a beautiful and tasty Veggie Board starts with choosing the freshest ingredients. Here's what you'll need:
The addition of cottage cheese not only adds creamy richness to the board but also a good measure of protein. Plus, its subtle flavors pair well with the natural crispness and freshness of the vegetables.
Veggie Board Preparation Steps
With ingredients ready, it's time to build your Veggie Board. If you're new to charcuterie, don't worry—we have you covered! Here's a simple step-by-step guide: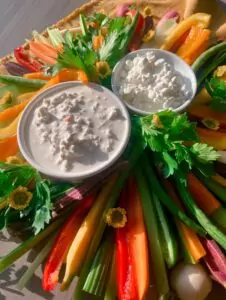 Start by prepping your vegetables: wash them thoroughly and cut them into bite-sized pieces.
Next, place the ramekins of Cottage Cheese in the center of the board. This will serve as a delicious focal point for your colorful arrangement.
Start arranging the vegetables around the ramekins, going clockwise. Start with the larger vegetables like bell peppers and cucumbers.
Keep in mind, arranging your Veggie Board is an art—there's no "wrong" way to do it. So let your creativity run wild, and have fun while you're at it!
Once larger vegetables are in place, begin layering the smaller veggies such as carrots and radishes on top.
Garnish your board with some celery stalks and food-safe flowers for added appeal. Congratulations! Your Veggie Board is now ready.
Remember that arranging your board can be as simple or complex as you want it to be. The end goal is a feast for both the eyes and the taste buds!
Serving Your Veggie Board
Serving a Veggie Board is fairly easy. Place the board in the center of the table and let guests serve themselves. AE Dairy's cottage cheese pairs perfectly with these veggies, offering a creamy contrast to the fresh and crunchy vegetables. Plus, it's packed with protein, making it a healthier alternative to traditional dips.
Maintaining Freshness: Veggie Board Storage and Care
Left with some unserved veggies and cottage cheese? No worries. You can store leftovers properly to enjoy them later. Place any leftover vegetables in airtight containers and refrigerate. As for cottage cheese, simply replace the lid and store in the refrigerator. Both should maintain their freshness for a couple of days when stored properly.
Encouraging Creativity: Variations to Try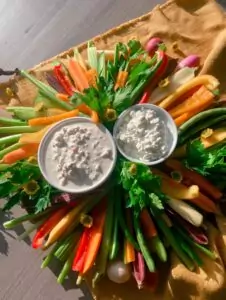 Mainly a base, our Veggie Board can be modified to suit your preferences. Add some fruits for a sweet touch, or throw in some nuts and olives for added variety. Use different types of cheese if you want to experiment. We recommend keeping AE Dairy Products for its amazing compatibility with almost any food item. They have so many amazing dips & cheeses; our family loves them all. I personally love the Party Sour Cream dip the most!
Healthy Can Be Tasty: Wrapping Up
Remember that healthy eating doesn't have to be boring. With your Veggie Board, you can enjoy a colorful, nutritious, and delicious meal at your backyard BBQ or summer picnic. So ready your knives and chopping boards, and let's make eating veggies fun!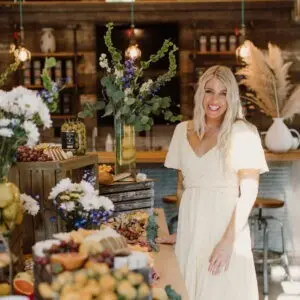 Food stylist & founder of One Board Gal. Known for creative food tips and simple cheese board inspiration. I am dedicated to helping you bring a lot to the table by sharing tricks, tips, and education for your next gathering.